International Watch Company or IWC as commonly known. builds watches, which are aesthetically
pleasant. They have robust built quality and at the same time, function seamlessly for the very
purpose that they were built for. From the vast collection of IWC watches, it is indeed a tough
task to find the best match for your beating pulse. Here are our top 3 watches from IWC with
annual calendar or date feature, to buy right now! All of these are automatic IWC watches.
Our list includes the face-lifted Portuguese (now called as the Portugieser – German for Portuguese)
collection and the extended IWC Portofino family.
Top IWC Date Watches: IWC Portugieser Annual Calendar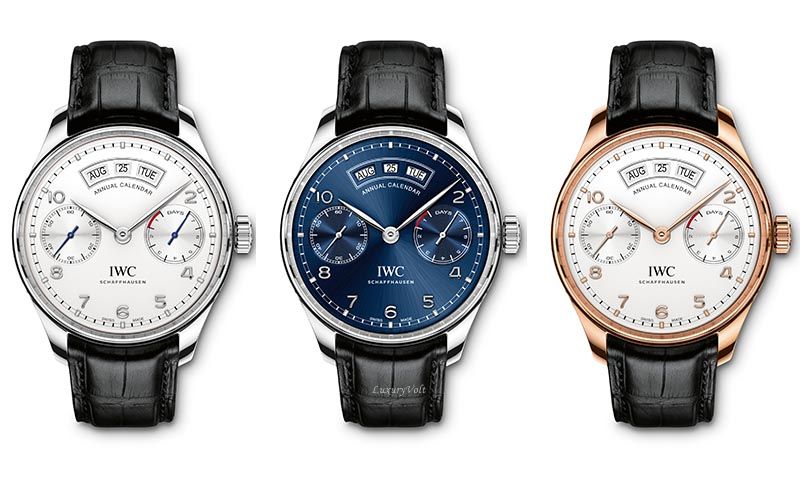 For some reason, Annual Calendar complication is not as popular as Perpetual Calendar. I wonder,
why? Shelling out a small fortune, only for the convenience of not having to adjust the date at the
end of February every year, is something beyond the understanding of my squirrel mind.
Probably, IWC saw this as an opportunity and hence, introduced the very first IWC Portugieser
Annual Calendar teaming it with an all-new "in-house" 52850 calibre movement. This movement
has enough power reserve to keep ticking away for a week, when fully wound! Similar to the
Patek Philippe Annual Calendar Ref. 5205, the annual calendar on IWC is displayed in a
semi-circular fashion at 12 o'clock, but in American order (i.e. Month, Date & Day). Any correction
to the IWC annual calendar can be easily performed from the crown. Brownie points to
IWC watch designers for not adding any unwanted pushers!
Furthermore, the 44.2 mm fine-looking case displays a small seconds subdial at 9 o'clock.
A 7-day power reserve display on its opposite side. There is also a railroad minute track that
is seen across all the new 'Portugieser' models (which was not the case in the old collection).
I am not big on the words "annual calendar" written on the dial, the watch is hands-down gorgeous.
If you find the face of the watch attractive, wait till you turn it around and witness the 52850
calibre movement in action through the transparent sapphire crystal case back. The toned
down rotors, open bridges and noticeable barrels will make anyone gaze at the decorated
movement in awe! The watch comes in three different references, two of them in steel and
one in 18K red gold. The stainless steel version with the midnight blue dial gives the watch
a more contemporary look and is definitely my favourite of the lot. Look how well the IWC
blue dial watch goes with the new Balenciaga FW 2015-2016 attire!
Top IWC Date Watches: IWC Portugieser Automatic 2015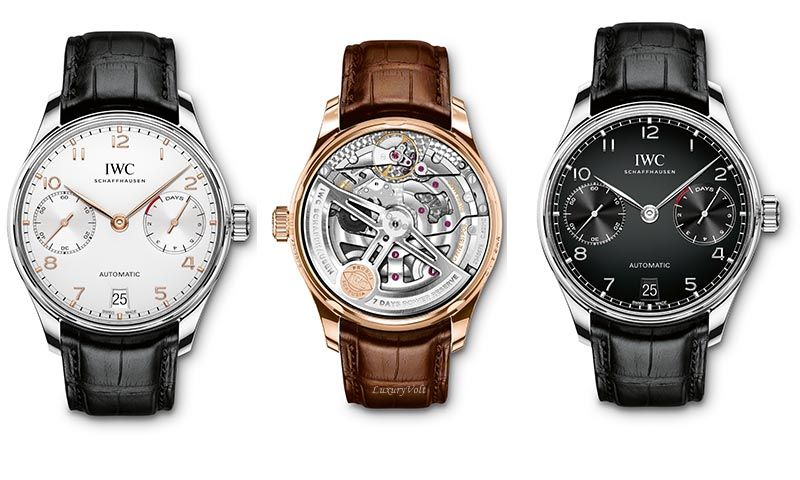 If you have been a fanboy of IWC, like me, you will instantly recognise this IWC date watch. The small
seconds and 7-day power reserve subdials on opposite sides of each other. Plus, the date window at 6
o'clock and large Arabic numerals. The nearly neat dial with 42 mm case instantly signals the brain;
that this is the newer sibling of the very first IWC Portuguese Automatic Ref. 5001 released in year
2000. This watch was an instant hit, back then! The calibre 5001 movement used in the IWC Automatic
watch circa 2000 was not only the largest self-winding movement at that time but it also boast of the
longest power reserve in any automatic watch!
Fast forward to 2015 and we have the second generation of IWC Portugieser Automatic Ref. 5007.
I don't see any changes as far as the looks are concerned and honestly, I am glad for that. The
'pocket-watch turned into a large-wristwatch' look will never go out of fashion. The calibre 5000
movement is now replaced with a superior, wear-free and a more precise double barrel 52010
calibre movement.
Similar to the Portugieser Annual Calendar, it has a sapphire crystal case back which gives you
a panoramic-view of the decorated bridges, the new barrels, ceramic mechanism and the solid
gold medallion with "Probus Scafusia" emblazoned on it.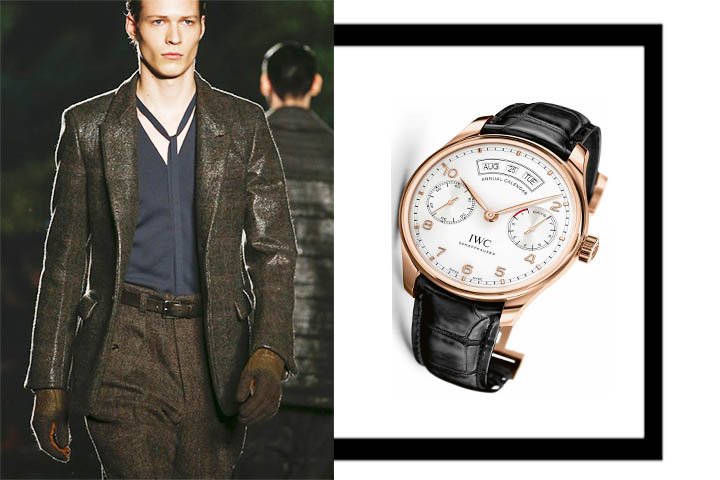 Will trot well on your wrist with a sexy Zegna jacket. This combo might give James Bond and
his Omega a run for the dapper look! The IWC Portugieser Automatic comes in three stainless
steel and two 18K red gold references. It is an everyday unconventional watch which you can
sport at a black-tie event or even when you are out doing grocery shopping and it will
never feel out of place.
Top IWC Date and Calendar Watches: IWC Portofino Automatic 37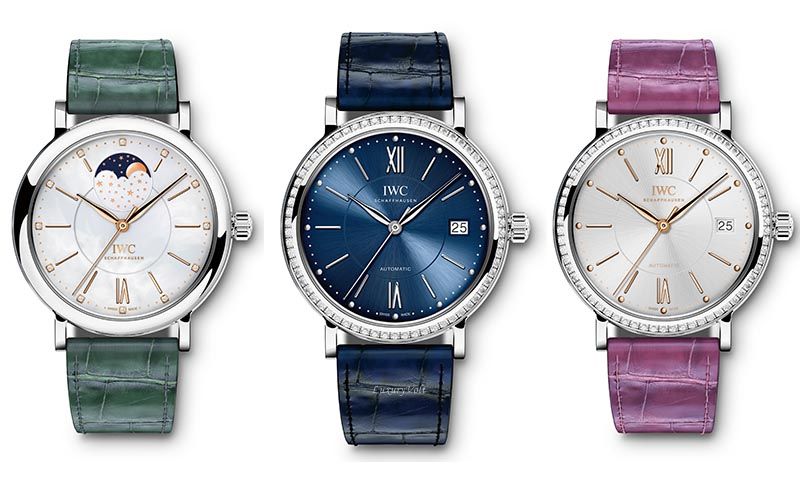 Around 40-50 years back, 37 mm watches were considered as large size watches. Today, even 42
mm ladies watches are in demand. So how do you make sure a 37 mm mid-size watch garners
enough attention from both sexes? At least IWC thinks they have an answer for it and that is
DIAMONDS. IWC have introduced altogether 20 new additions in their Portofino mid-size set,
which includes 6 references of Automatic Moon Phase and 12 references of just, the Automatic.
The wide combination of dial and strap colours, case materials, with diamonds positioned in
different parts, makes them attractive to any gender (more to women, honestly!). We love
how this Chloe brown overcoat looks super hot with the bright blue IWC diamond watch!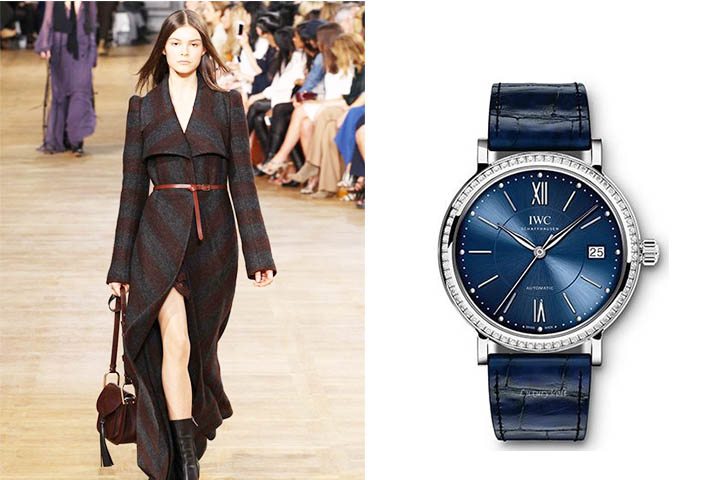 The Moon Phase complication is one of my favourite of all watch complications. The Portofino
Automatic Moon Phase launched along with the IWC Portofino Automatic 37, has a gorgeous
display of it. With a prominent moon at 12 o'clock surrounded by the stars and cloudy-dial,
gives the watch an arresting sensation of depth. The 35800 calibre self-winding movement
powers the watch and comes in 6 different references including white and red gold.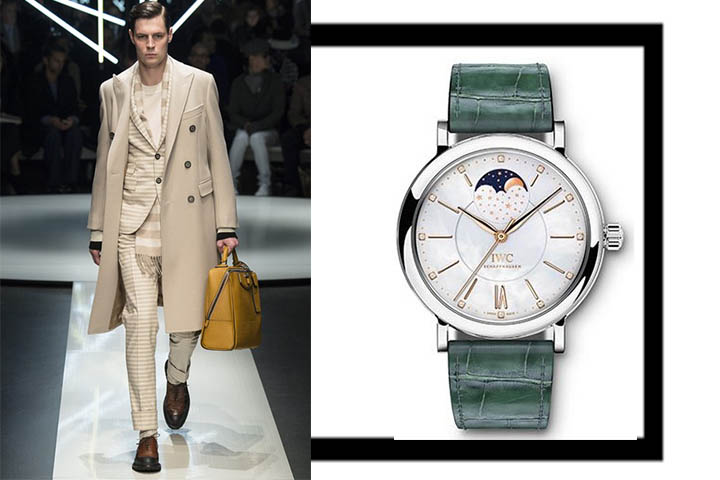 If you think variety is the spice of life, then the Portofino Automatic 37 is the watch for you.
It comes in as many as 12 references and is a straightforward watch with 3-hands and a date
window at 3 o'clock. It appeals to even fans of non-blingy things, with a version of the Automatic
having diamonds on just hour markers.